Routinely eating breakfast while on the go can quickly derail your weight loss efforts. Options available at most coffee shops and fast-food restaurants are typically high in carbs, fat, and sugar. However, if you make a stop at Starbucks, there are plenty of healthy breakfast options you can order to keep you on track with your weight loss goals. Best of all, you can plan your breakfast order ahead of time by checking out their nutrition facts.
"The great thing about chain restaurants, fast-food places, or even coffee shops with more than 20 locations is that they are required by law to list their caloric information on their menus," says Roxana Ehsani, MS, RD, CSSD, LDN, and board-certified sports dietitian. "So, it makes it easier for consumers to make lower calorie choices or compare options when debating your order."
If you are trying to lose weight, consider this dietitian's take on the ideal breakfast order from Starbucks. After discovering which food and beverage items make for the best Starbucks breakfast order, check out some healthy breakfast dishes also supporting weight loss that you can whip up at home in 7 Best Breakfast Foods to Jumpstart Weight Loss, Says Dietitian.
The best drink to order for breakfast at Starbucks: a grande caff latte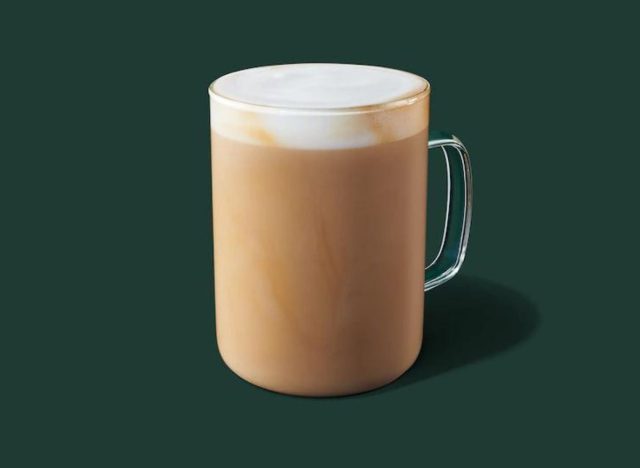 Per grande caff latte (16 fl oz): 190 calories, 7 g fat (4.5 g saturated fat), 170 mg sodium, 19 g carbs (0 g fiber, 18 g sugar), 13 g protein, 150 mg caffeine
It might sound basic, but a plain, grande-sized latte from Starbucks can benefit weight loss.
"You can choose either a low fat, nonfat milk, soy, or even an oat milk latte without additional flavorings," Ehsani says. "When you order a latte, you might feel it to be a step up from just a plain coffee, as it's more luxurious and contains much more milk than just a regular coffee. So, it can feel like a nice treat."6254a4d1642c605c54bf1cab17d50f1e
However, if losing weight is your ultimate goal, Ehsani recommends skipping the addition of any type of sweetener, sugar, flavors, or syrups for your drink. Including these will only increase the sugar calories of your beverage without providing much nutritional value, thus countering your weight loss efforts.
"A plain latte also gives you a good source of protein," explains Ehsani. "If you choose low fat, nonfat, or soy milk—depending on the size of latte you're choosing—you likely are getting at least 1 cup of milk, which contains around 8 grams of protein."
Ehsani adds that including proteins during snack and mealtimes will fill you up and help you feel satisfied, which, in turn, will deter you from later overserving yourself at other meals.
"So, next time you go [to Starbucks]skip the flavored lattes—aka your pumpkin spice latte, mocha, or Frappuccino—and just stick with the plain latte," she says.
The best breakfast food order from Starbucks: spinach, feta cheese, and egg white wrap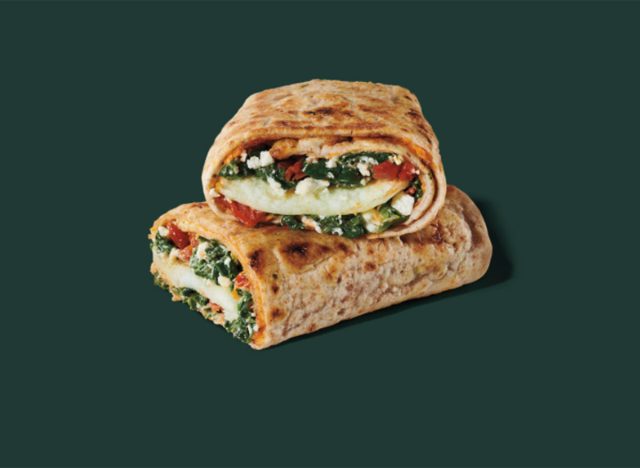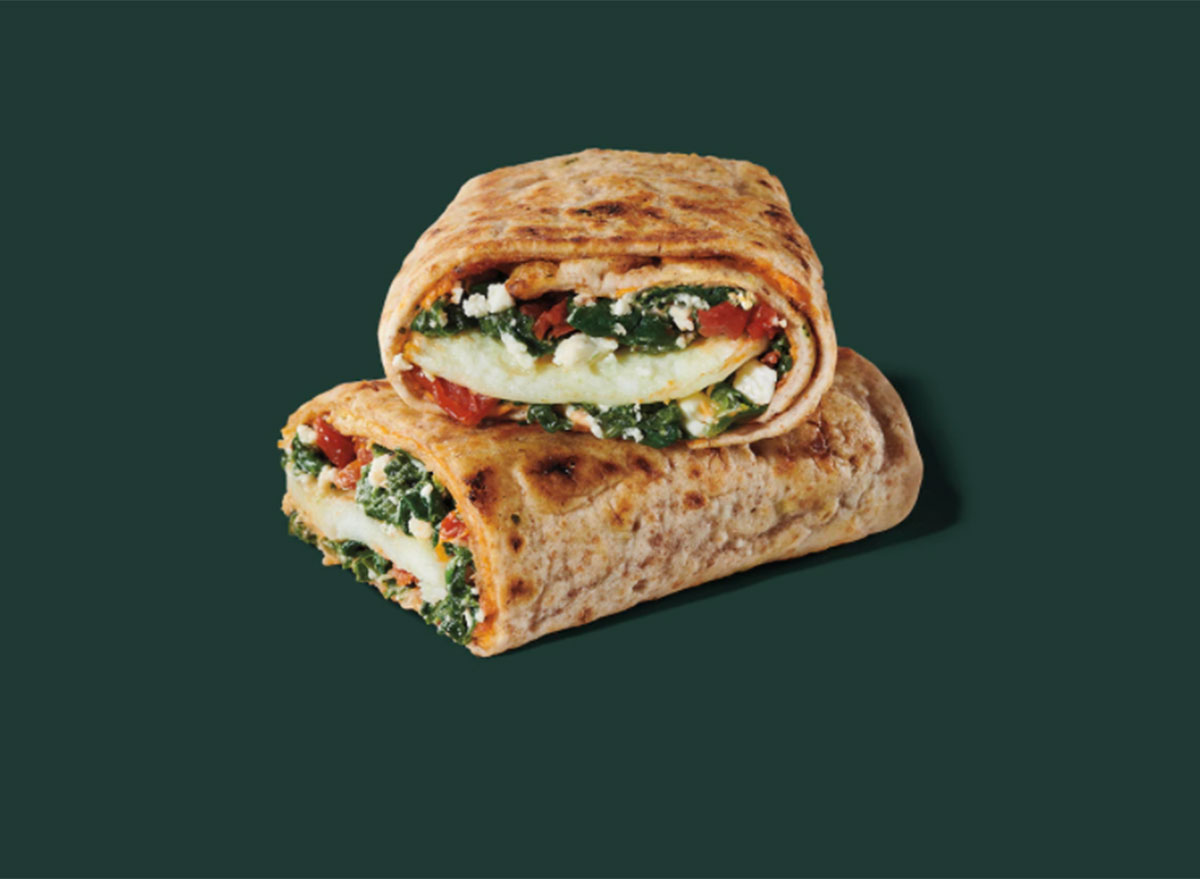 per wrap: 290 calories, 8 g fat (3.5 g saturated fat), 840 mg sodium, 34 g carbs (3 g fiber, 5 g sugar), 20 g protein
"I like that [the Starbucks spinach, feta, and egg white wrap] at least contains two veggies, is wrapped in a whole wheat wrap, and contains a good source of protein," Ehsani says.
At just under 300 calories, Ehsani also notes that this Starbucks wrap is a good breakfast-on-the-go option because it isn't too high in calories. "Some pre-made menus are quite high in calories," Ehsani continues. "So, having a lower calorie menu item can be hard to find."
Ehsani specifically emphasizes that the wrap is made with whole wheat, which means it contains a good amount of dietary fiber. This will keep you full for longer because it takes more time to digest. Also, this wrap's fiber content can give your blood sugar a slow, steady release of energy over time.
"Foods rich in dietary fiber are always key for weight loss, and I'd recommend looking for those high-fiber foods in any menu item," advises Ehsani. "Fruits, veggies, and whole grains are all good sources of fiber."
In addition to providing fiber, the egg whites within this wrap will give you a dose of protein.
"Protein will also help with weight loss, provide you with feelings of satiety, and can fill you up for longer," explains Ehsani. "Foods high in protein also help support weight loss as it fills you up, leaving less room for other foods or to overeat later on."